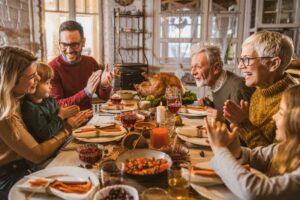 For many people, the time between Halloween and the New Year is their most favorite time of year. From baking holiday cookies to watching favorite holiday movies, to putting up holiday decorations and choosing a Christmas tree, there's a lot to look forward to during "the most wonderful time of the year."
But nothing will interrupt your enjoyment of the holidays faster than a broken-down heating system. No one wants to be without heat during our cold, rainy winter. That's why we're providing 3 essential tips that'll hopefully help you avoid an interruption in your heating service this season. From changing the air filter to scheduling maintenance, be sure to add these to your to-do list.
1. Schedule Heating Maintenance
Do you want to make sure your heating system doesn't go down when friends and family are visiting from out of town, during a festive party, or when the forecast calls for below-freezing temperatures? Scheduling an annual furnace maintenance appointment is the best way to avoid an unexpected repair need! That's because maintenance gives our technicians a chance to catch any small issues before they can become major headaches.
2. Change the Air Filter
Your HVAC system's air filter should always be changed at the start of the heating season. If you forgot this important task, don't worry–it's not too late to do it now. Your heating system's filter's job is to keep dirt, dust, and debris out of its internal parts. Just like with any piece of machinery, keeping the interior clean will help it run at peak efficiency.
3. Check the Vents, Ducts, and Indoor Unit
This one involves the most amount of time, but it's an important DIY task. That's because as much as 30% of the heated air your heating system produces can be lost to poor ductwork. Holes, tears, and leaky seams can eat up a lot of the precious conditioned air that you pay for every month.
That's why checking your vents, ducts, and the system itself should be on your homeowner's DIY list. Twice a year, take some time to perform a visual inspection of these essential components of your HVAC system.
First, look over the visible areas of your ductwork. You're looking for any holes, tears, or areas where the ductwork doesn't seem as if it's sealed properly. Hold up your hand to feel for any drafts. That's a definite sign that you've got leaks. If anything seems amiss, give us a call for a professional inspection.
Use this time to also check your home's vents. They should all be open and there shouldn't be any objects placed in front of them. Sometimes boxes or furniture can be put in front of vents when they shouldn't be.
The last thing on your checklist should be to inspect the heating system itself. Sometimes over the summer, gardening supplies, camping equipment, and boxes can end up next to your furnace. These should be moved immediately. Not only is it a potential safety hazard, these items are impeding airflow to your furnace.
Contact Cozy Heating Inc. to schedule furnace repairs and maintenance in Arlington, WA. We Won't Quit Until You're Cozy.